July 31, 2020
Our West Toledo and Oregon Branches Are Open!
Welcome Back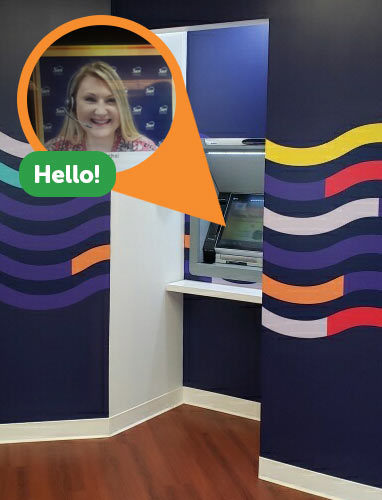 We've taken our friendly service a step further...there's a new member experience at our West Toledo and Oregon branches! Harmony allows you to speak with a live SFCU employee on the screen!

With Harmony you can:
Withdraw cash or coin
Make loan or mortgage payments
Transfer money between SFCU accounts
Deposit up to 30 checks or dollar bills at the same time
Use as a traditional ATM with your debit card and PIN
In-Person Service
You can continue to expect helpful in-branch staff ready to serve you! The addition of Harmony has even created opportunities for our employees to be promoted and new job openings to welcome additional staff.

Branch employees are available to:
Introduce you to our new experience.
Help you understand your credit report, budgeting, applying for a loan or anything else that's on your mind.
---
Together We Persevere
---
We Have So Much To Share With You!
More Harmony/ATMs Coming To Our Ohio Branches!
---
July is bringing comfort and technology together in Harmony!
New Perrysburg Branch Coming in July!
---
Our Perrysburg branch is on the move! It's relocating only a half-mile down the road and we know…
Ellis Preserve Branch Relocates To Our Radnor Branch
---
For the last 5 years, we have enjoyed serving members at our Ellis Preserve branch in Newtown…
Looking Out For You
---
Need to meet privately, in-person with a Sun Federal employee? Each branch has designated member…
Remember Your Digital Toolbox
---
Stay safe and in control of your finances while social distancing by discovering what's in your SFCU…
A Message from Brian Hughes, President/CEO
---
Though the COVID-19 pandemic has altered our everyday lives, it has given us time to reflect on how…
Great News… We're Renovating!
---
Great Things Are On The Horizon. During this health crisis, our lobbies with Harmony/ATM inside…
6 Tips On Using Your Stimulus Payment
---
From The National Credit Union Foundation
Special Newsletter - Connected Like Family
---
There have been so many changes in how we live our lives over the past month. We wanted to take a…
Limited Lobby Access
---
The Coronavirus (COVID-19) is continuing to shift the way we provide service. As we work to keep…
We Are Here For You - Pandemic Financial Relief Options
---
As our nation navigates the impact of the Coronavirus (COVID-19) pandemic, we recognize these…
Important message regarding our Center City and Ellis Preserve branches
---
Pennsylvania Governor Tom Wolf has ordered the temporary closure of all "non-life-sustaining"…
Sun Federal will limit services at all branches until further notice
---
As promised we are dedicated to keeping you informed of developments in the COVID-19 outbreak and…
A message from the CEO
---
At Sun Federal, we are driven by our mission of "People Caring About People." In living up to this…